Interfacial's Engineered Substrates Division
manufactures high performance composite substrate
for the transportation, building & construction, flooring and other markets. The manufacturing of these composite sheets is enabled by a
state of the art continuous double belt press
that leads to industry-leading performance attributes in lightweighting, dimensional stability, use of eco-friendly materials and cost reduction.
With 20,000 sq. ft. of manufacturing space in River Falls, Wisconsin, our Engineered Substrates Division is built upon a manufacturing strategy that allows the interface of dissimilar materials into multi-layer composite substrate with performance attributes that meet specific customer requirements. The continuous double belt press applies heat and pressure in such a way that is very "friendly and amenable" to the variability found in post-industrial and post-consumer recycled plastics. This has allowed Interfacial to aggressively pursue its key strategy of incorporating sustainable materials wherever and whenever possible.
Capabilities
We have state-of-the-art continuous double belt press technology and supporting capabilities to deliver high performance plastic composite sheet.
Products
We manufacture very high performing plastic composite sheet for our innovation-minded customers.
Featured Technology
"Continuous Double Belt Press"
Interfacial's Continuous Double Belt Press (CDBP), commercially developed by Sandvik TPS, has been incorporated by Interfacial to manufacture high performance plastic composite sheet from thermosplastics, thermosets and other materials.  Interfacial has developed several novel methods for utilizing the CDBP to develop commercially viable products for the transportation, building & construction, flooring, recreational vehicle (RV), signage and thermoforming markets.  Interfacial has profitably innovated solutions incorporating the CDBP by i) developing deep know-how and patents around the flexible CDBP platform and ii) working closely with our innovation minded customers in the development and manufacturing of commercially viable high performance composites.
Utilizing the CDBP and its flexible process technology, Interfacial is able to commingle recycled and virgin plastics with other materials in high performance, multi-layer constructions to achieve important performance attributes.  Plastics ranging from commodity PE to engineered resins such as PETG can be combined with other inexpensive materials ranging from glass microspheres to cork to glass fiber mats to achieve important performance characteristics such as lightweighting or high dimensional stability.  Other differentiated advantages and benefits achieved through the CDBP include:
Sheets that are thermoformable post-compression
Significant cost savings due to the elimination of batch compression molding process
Wide thickness range from 1mm to 12mm while achieving sheet width up to 5' wide
Processing of highly filled dissimilar materials that don't normally like to flow together or are incompatible
Allowance for a closed loop recycling system if required by a customer
White Paper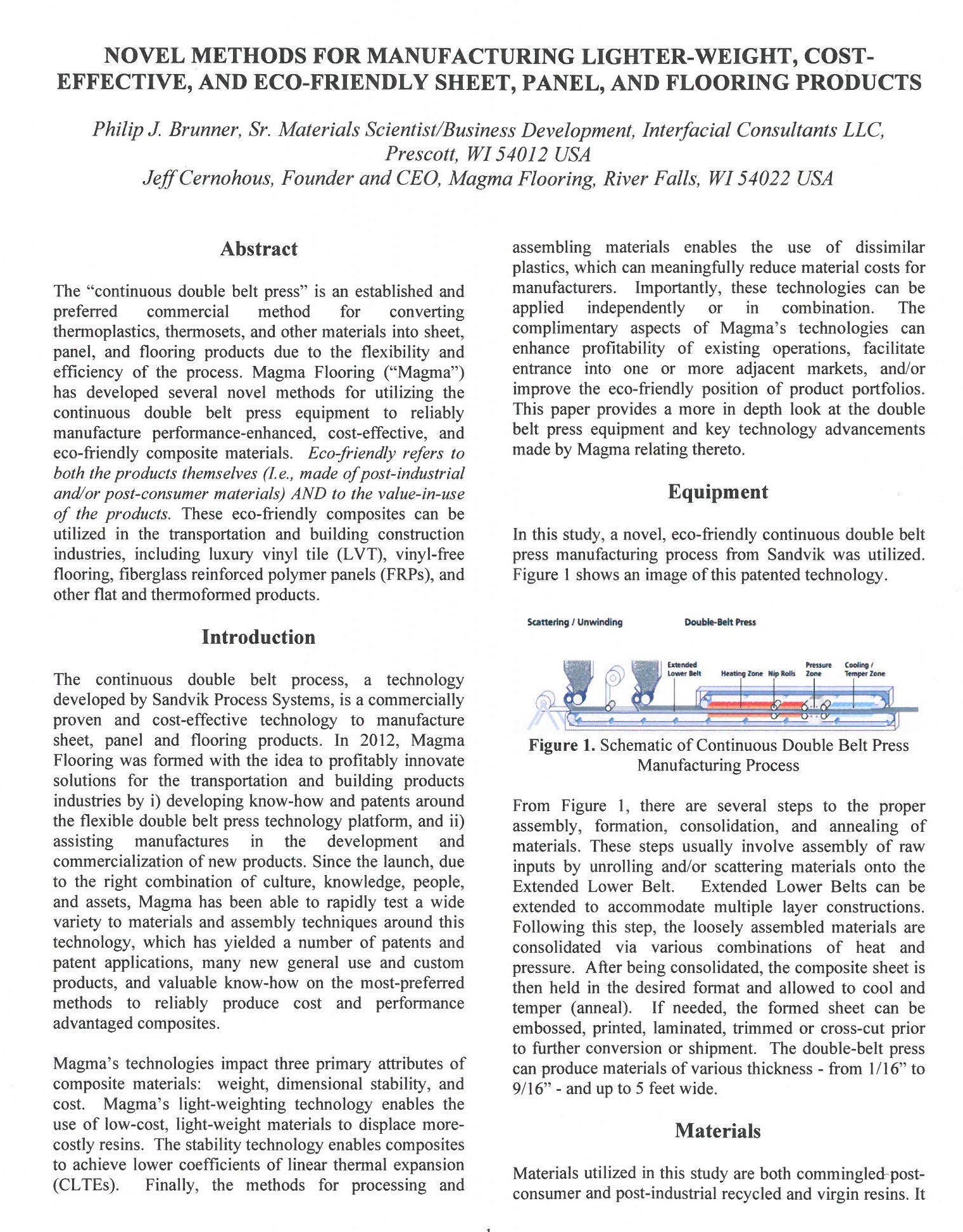 Novel Methods for Manufacturing Lighter-Weight, Cost-Effective, and Eco-Friendly Sheet, Panel, and Flooring Products.