Interfacial's Specialty Materials Division
manufactures high value compounds and masterbatches
for a large base of innovation-minded customers. Our patent-pending masterbatch technology allows us to achieve unparalleled loading levels with high dispersion characteristics, often in the 90% plus by weight range. We have developed state-of-the-art manufacturing capabilities that allow us to compete in the low volume, high mix category AND in the high volume, low mix category (from sample to truckload quantities).
With 30,000 sq. ft. of manufacturing space in River Falls, Wisconsin, our Specialty Materials Division is built upon a flexible manufacturing strategy that allows for rapid changeover, seamless scale-up (sample-to-pilot-to-production) and machine-to-machine consistency. Our state-of-the-art twin screw equipment strategy is key to our proven success and growth, and we are proactive in our approach to facilities, staffing and equipment to meet the growth of our business and that of our customers.
Capabilities
We have state-of-the-art twin screw extrusion capability to deliver on the production of our high value compounds and masterbatches.
Products
We manufacture the most highly filled masterbatches in the marketplace and specialty compounds for an elite set of innovation-minded customers.
Featured Technology
"Highest Filled Masterbatches in the Marketplace"
Interfacial has developed a novel method for manufacturing the market's highest filled masterbatches (MBs). The manufacturing method consists of three-steps: pre-coating of mineral or filler, removal of liquid carrier, and pelletization. Utilizing this technology, Interfacial has designed, developed and manufactured MBs consisting of inorganic and organic fillers that have 75 wt% to 95 wt% loading level in polyolefin, polyamide, polyester, and other carrier resins. Some of the significant advantages and benefits of this technology include:
Excellent dispersion of MB in main resin leading to enhanced properties
Lower cost MB due to effectiveness of processing method
Low temperature process that eliminates degradation of heat sensitive additives and/or fillers
Another major benefit of this technology is that it turns typically difficult-to-handle materials into MBs that are much safer, cleaner, and easier to handle.  This includes hard-to-handle materials such as low bulk density conductive carbon blacks, nano and thermally conductive graphites, and carbon nanotubes.  Called "Clean Carbon" due to the densification of these low bulk density powders, throughputs are increased since the pellets feed in much like conventional MBs. Another benefit is that transportation costs improve since companies can now package more material due to the fact that the pellets are tough and survive shipping in large totes. Furthermore, Interfacial has demonstrated that its low shear process can maintain the structure of conductive carbon black leading to performance similar to as-received powders. This game-changing discovery allows companies who handle these materials to maintain cleaner facilities as well as the reduction of these conductive materials causing issues with processing equipment.
White Paper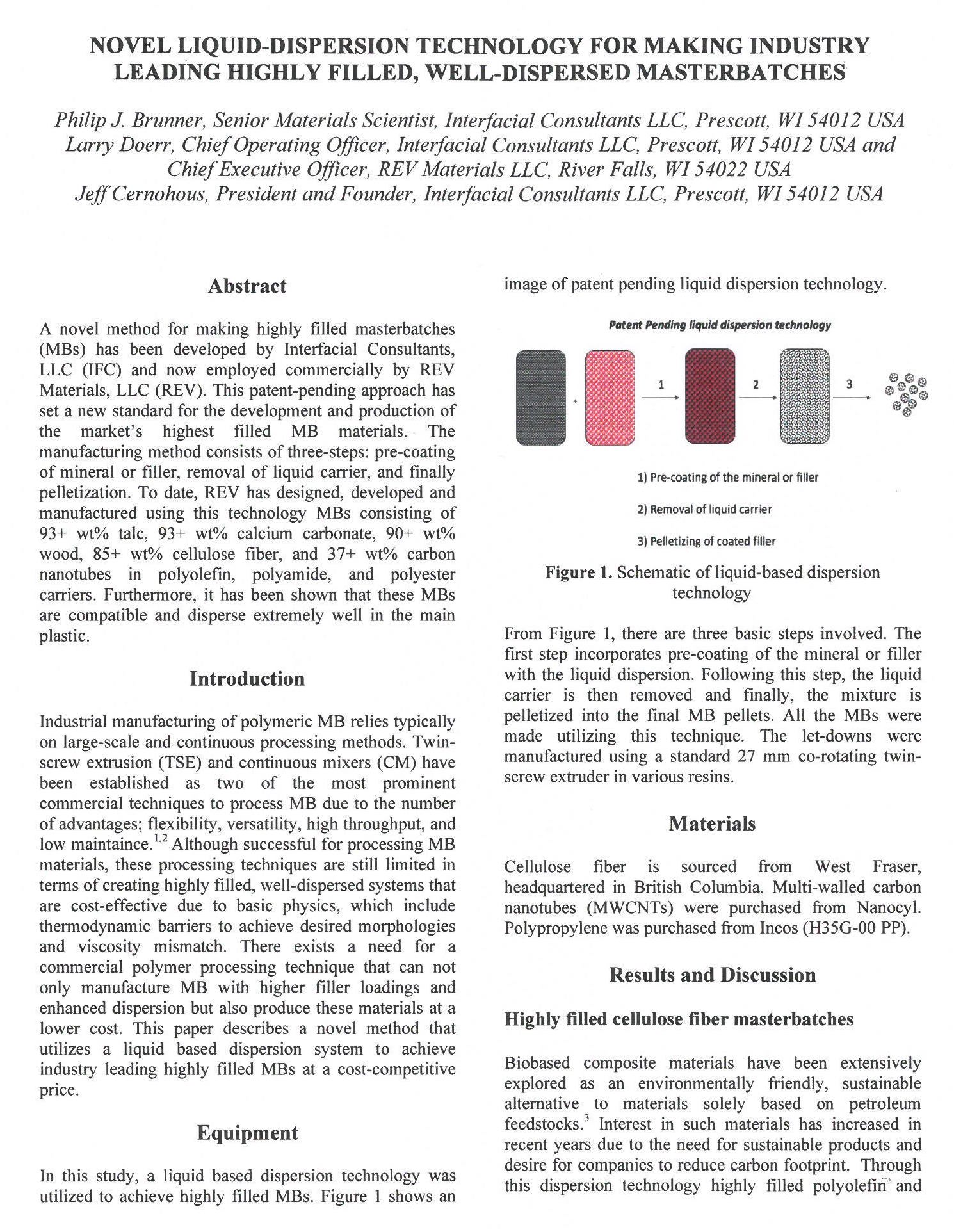 Novel Liquid-Dispersion Technology for Making Industry Leading Highly Filled, Well-Dispersed Masterbatches.